Hello Katerina, Tukaj je moj 'koticek'. Andrew Živio! It is Andrew again. How have we all been? Excellent, I hope. Thank you to Barbara Smrdel this month for writing about her trip to Europe on a plane. I am still not getting many responses for Misli. Please if you know a 'funny' story, or would like to tell everyone something, please write to Misli or me.
In case you have forgotten my address it is: bratboy007@hotmail.com
The Editor
The Melbourne Slovenian Dance group: 'Iskra'
The Slovenian dance group, 'ISKRA', was formed in 1997 by Paula Smrdel, Christine and Wendy Cesnik. It was originally formed especially for the Canberra Youth Concert in 1998 but then went on to bigger and better things. These include: -Oktoberfest 1999 and 2000 -Dandenong Festival 1999 and 2000 -Youth Concerts 1998,1999 and 2000 -Opening of the Slovenian Exhibition at the immigration museum 2000 -Various cultural concerts at Slovenian organizations - Channel 31 telethon 1999 the members of ISKRA were also all actively involved in trying to revive and continune all actions of the former youth group.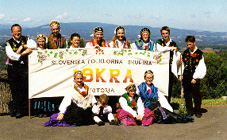 Over the years members have come and gone from the dance group due to other commitments therefore new people have accepted the responsibilities of others. Former and present members include: Wendy and Christine Cesnik, Paula and Anton Smrdel, Iris Dietner, Chrissy Mesaric, Simon, Michelle, Leah and Melissa Fistric, Andrew, Melissa and Mathew Bratina, Adrian and Robert Butinar, Lojzek Crvek, Evgan and Marta Iglic. Iskra was also supported by Lenti Lenko who was always willing to record music and play live if necessary on the piano accordion.
Leah Fistrič
The "Horror" trip to London
This is an email that Barbara Smrdel sent after arriving in London. My flight home was a nightmare. Want to hear about it? I flew with Egypt air and fear was instilled into me as soon as I boarded. There were no females, so smiles, no hellos. Okay, don't panic. The seats were wider than Qantas, so I thought, 'this will be okay'. The seatbelt sign was turned off and along with it came a mass exodus to the rear of the plane, then, lots of smoke. I panicked. First and only thing that came to mind was 'fire'. The guy next to me reassured me that it wasn't. He said the plane has a policy that the last three rows of the plane can smoke. I was six from the back. That amounted to a large headache and blanket over my face for the rest of the trip. An hour from Singapore the plane began to jerk, wildly. People falling in the aisles, people screaming. They called it turbulence but I didn't. We experienced heavy turbulence the entire time we were travelling over the Arabian Sea. At one stage the seatbelt sign was on for just under two hours because it was so bad. Then we had lots of arguments and people sneaking out of their seats because they weren't allowed to go to the toilet. It wasn't the ideal situation. When we landed in Cairo, the pilot apologized that we had arrived late and said it was due to the cyclone in the Arabian Sea - fantastic! The flight to Heathrow wasn't much better. A plane full of people waiting for an hour and a half with the weather at 38 degrees. This resulted in a VERY unpleasant smelling plane. The Air-conditioning took forever to function. Completely grateful to be on land when I arrived in London, it didn't take long to realize that my luggage had been lost - could it get any better? I was glad to be rid of the experience until it registered that I had to fly back with the same airline! Moral of the story - it doesn't always pay to fly cheap. Anyway, I'm back now and starting a new job in two weeks. The weather has been really nice and life is pretty good. Cheers Barbara Youth Concert 2001 Sydney This year is the 27th Slovenian Youth concert and it is going to be held at St. Rafael Sydney. In Melbourne we have organized a bus trip going there and back in a five star coach for $120. This includes morning tea, arrival dinner, concert ticket and farewell BBQ. Performers go free! The best bit is that people get to stay at a 4 ˝ star luxury hotel, The Carlton Hotel in Parramatta. For more details please contact Lydia Bratina on (03) 9700 3178. For Adelaide and Brisbane contact your Slovenian Church or club and let us make this one of the best concerts ever! Thanks again for reading this section! I hope that you still enjoy it. Please help me to deliver a fresh new "Corner" each month by sending me a letter. Write a story, joke or send me information on someone you think should be a star of the month.
The Editor