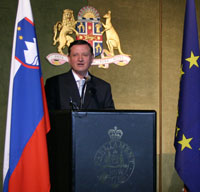 I am honoured to be here today with you, representing the Premier of NSW and to join with the Slovenian Australian community to celebrate this auspicious day.
Slovenia 's National Day is a significant occasion for the Slovenian community in Australia and throughout the world. This year is particularly important as it marks the 15h anniversary of Slovenian independence. In fact Australia was the first country outside of Europe to recognise Slovenia's independence.
Since its independence Slovenia has flourished. The nation's historical ties to Western Europe, a strong economy, and a stable democracy have assisted in Slovenia's transformation to a modem state.
I pay tribute to the great contributions of Slovenian-Australians to Australia, and in particular to New South Wales. During the 1960's and 1970's the majority of our Slovenian community immigrated to Australia. At this time, New South Wales needed workers for the Snowy Mountains Hydro Scheme and other large engineering projects. Slovenians made an important and essential contribution to these projects.
In more recent times relations between Slovenia and New South Wales have moved from strength to strength. Investment from NSW into Slovenia continues to grow. For example, Harvey Norman, which opened its first store in Ljubljana in 2002, is expanding its operations, with three new stores opening across Slovenia.
I understand that Australian influence is also expanding into the sporting arena. Retailer Harvey Norman has been a primary sponsor of the Ljubljana Cricket Club. This financial backing has enabled the Club to introduce the cricket into schools in Ljubljana and the surrounding regional areas.
Australia 's Slovenian community, while relatively small, has established a stronghold and greatly contributed to our community's cultural diversity through its churches, cultural centres, organisations, and media.
The NSW Government is proud of this State's Slovenian community and has been happy to support study of the Slovenian language through the Community Languages Schools Program, administered by the Department of Education and Training.
The community has a busy week ahead with a number of national day events and the announcement of the annual Slovenian Australian of Year Award. I understand that as part of this year's National Day celebrations at the Slovenian Association Sydney club, the community will be unveiling a plaque commemorating the 15'h anniversary of Slovenian independence and a memorial to those who have fallen in war.
On behalf of the NSW Government, I congratulate the people of Slovenia and our Slovenian community on their National Day and propose a toast to the President of Slovenia, His Excellency Dr Janez Dmovsek
There are around two and half million Slovenians throughout the world today, including those living in Slovenia
A small number of Slovenian immigrated to Australia between the two world wars. Most were single men or married men who came to Australia alone, and were reunited later with their families. The main emigration followed the end of the Second World War, the majority being refugees who left Slovenia because of their ideological opposition to the communist regime of post-war Yugoslavia. The largest migration of Slovenians to Australia was in the 1960's and 1970's. These were the so called'economic migrants' who sought to better their standard of living and to ensure a brighter future for their children.
Many Slovenians have settled in Sydney and Melbourne and in industrial centres like Geelong, Wollongong and Newcastle, but they tend to be widely dispersed rather than form large concentrations in one area.
Slovenians are generally well integrated within the Australian community and many enjoy substantial incomes working in trades or small businesses, as industrialists, office workers, professionals and academics.
Because of Slovenia's geographical position in Europe, Slovenians have needed to learn foreign languages to be able to succeed in their daily living. This ability has assisted them in learning English and has therefore helped them to settle successfully in Australia.
The predominant Slovenian religion is Catholicism. Slovenians churches and their centres in Melbourne, Sydney and Adelaide are the focal points of Slovenian communities.
The Federal Member for Sydney, Ms Tanya Plibersek is of Slovenian heritage.